DPM Visit to Vicinity Studio!
Deputy Prime Minister
(DPM)
and Coordinating Minister for Economic Policies
,
Mr. Heng Swee Keat
visited our office earlier on 5th May 2022 accompanied by Secretary-General
Mr. Ng Chee Meng
, Deputy Secretary-General
Mr. Chee Hong Tat
, and NTUC President
Mrs. Mary Liew
!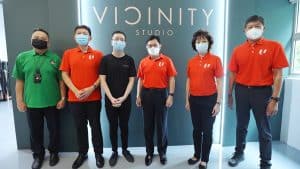 (Group Photo by MCI, Lim Sin Thai)
We are happy to share with them our progress on the Company Training Committee (CTC) partnership with CMPU – Creative Media and Publishing Union and NTUC Singapore through this DPM visit. Being a young company with a young workforce, we have grown over the past 4 years, with the completion of the Operation Technology Roadmap (OTR) that developed a work plan to transform the business and workforce formed in May 2021. The Union and NTUC's Employment & Employability Institute, e2i, indeed have helped a young, start-up company like us to grow and scale our business to greater numbers. This OTR has also improved and strengthened our HR capabilities to send more staff for development/skills courses.
Cited from DPM's Heng Swee Keat Facebook post:
"A virtuous circle. This is my description of what I saw when I visited the creative folks at content production company Vicinity Studio today. It's a young company with a young workforce. In the past four years, Vicinity Studio has grown exponentially to a 40-person outfit, led by founder Kevin. I was most impressed by their strong belief in wanting to produce content which connects with and inspires people. What is also interesting about Vicinity is that the company is unionized. It also partnered NTUC Singapore to form a Company Training Committee. A Company Training Committee is a virtuous circle. With support from the union and government, Kevin invested significantly in the upskilling of his workers and in new capabilities. In turn, a dynamic and energized team enabled Vicinity to take on many opportunities during the pandemic."
NTUC has helped support workers with the use of OTR in achieving better work prospects through company training workshops on the pressure of the Covid-19 pandemic.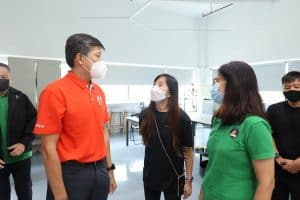 (Sharing session with the Head of Producer, Cherlyn (left), and CMPU Executive Secretary (right))
"There are currently 900 of such virtuous circles, in companies large and small, new and established, and across all industries. NTUC Sec-Gen Ng Chee Meng and his team aim to create 2,500 virtuous circles by 2025. There is no magic bullet to growing our economy and improving the lives of our workers. But these virtuous circles are an effective way that NTUC is partnering with our companies and the government to help our companies and workers grow. In a highly contested and fractious world, our way of tripartism is a source of strength as we grow the economic pie in a way that benefits everyone. To all our companies — do consider being a part of this virtuous circle if you have not already done so."
NTUC has helped form over 900 CTCs including Vicinity Studio over the years. From the recent Budget 2022 speech, they aimed to reach 2,500 CTCs by 2025 – building a future-ready workforce with good jobs and wages with enhanced productivity and innovations. Having tripartite partners – the Unions, the Government, and the employers, each played a critical role to help the company grow.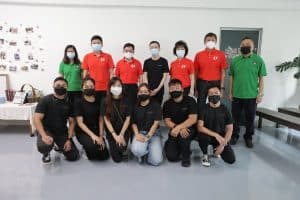 (Group Photo by MCI, Lim Sin Thai)
Cited from Secretary-General Mr. Ng Chee Meng's Facebook post:
"Recently at May Day Rally, I shared about the $70 million NTUC CTC Grant to scale our transformation efforts. What this means for businesses is enhanced productivity and innovation, and the ability to attract and retain talent more effectively. In turn, our workers can have better work prospects and better wages."
This was part of their plan to grow and transform Singapore's economy in the future by encouraging more companies to leverage the available resources and setting up their CTCs with NTUC and unions for both multinational corporations and small-medium enterprises (SMEs) in Singapore.
(Sharing session with tech crew – Eric and Sooche)
Cited from Deputy Secretary-General Mr. Chee Hong Tat's Facebook post:
"I encourage more companies to innovate and grow with NTUC through the CTC platform and leverage the resources and support from the #LabourMovement!"
With their campaign reach aimed to encourage more Small Medium Enterprises (SME) companies like Vicinity Studio to consider taking part in this virtuous cycle to transform their business and overall workforce.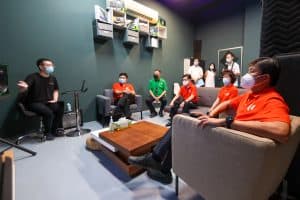 (Company's introduction talk with the Ministers led by Kevin)
The half-day visit started with an informative and hands-on tour around the office with camera/lighting equipment and a presentation on the company's growth/roadmaps for near-future plans and goals.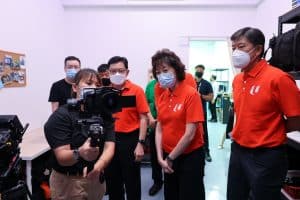 (The image stabilizing gimbal handling led by Lesley)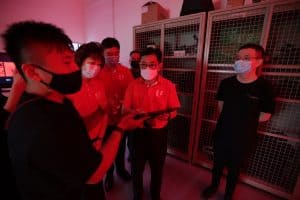 (Lighting adjustment, color, and intensity through Ipad led by Yi Xiang)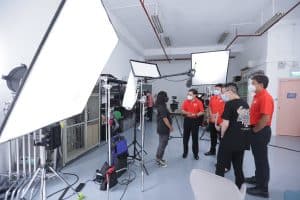 (Audio Setup led by Diyana)
The session was then summed up by a sharing dialogue session with a few of our own staff who had undergone NTUC training programs to upskill themselves for better progression. Amirah, a video editing supervisor that attended the Storytelling Course funded by the NTUC Education and Training Collaborative Funs (NCF), and Yi Xiang who made a career switch from Meetings, Incentives, Conferences & Exhibitions (MICE) industry and became a full-time Gaffer/Grip through the SGUnited Mid-Career Traineeship.
We are glad to lead this event and have been part of this journey for the past 1 year. We look forward to collaborating through more training with the support of the Union and creating more inspiring content in the upcoming years.